Royal Challengers Bangalore represents Bangalore city of Karnataka in Indian Premier League. It is one of the most glamorous team of the IPL and captain of the Team in Virat Kohli. Virat Kohli is the captain of Indian Cricket Team of all formats. This year, more eyes will be on RCB due to the outstanding form of Mr Kohli. All the details of RCB IPL tickets 2019 will be placed on this page for the convenience of RCB fans who want to watch the live action of the Royal Challengers Bangalore team in IPL season 12. Ticket prices and RCB match schedule will also be placed here.

M Chinnaswamy stadium is the official cricket stadium of Royal Challengers Bangalore. Royal Challengers Bangalore is among one of the balanced team and team is equipped with one of the best batsman of the World. RCB IPL team has some of the biggest hitters of world cricket like Virat Kohli, AB De Villiers and Chris Gayle. In 2018 IPL, duo of Virat Kohli and ABD played some sensational innings of the season.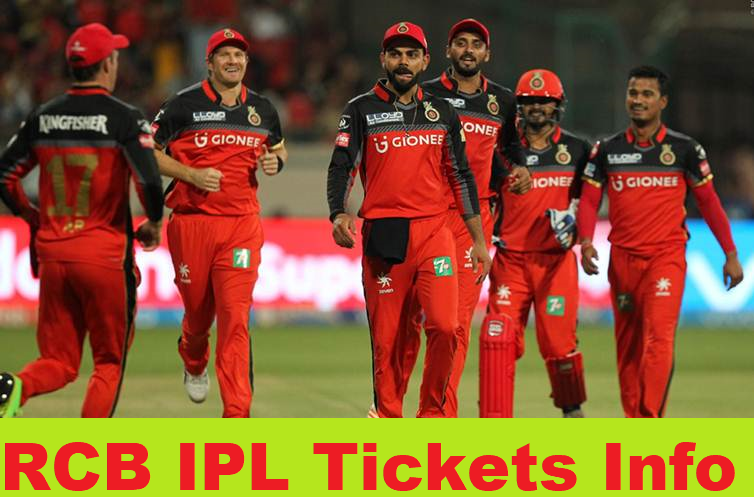 RCB IPL Tickets
IPL tickets for RCB matches will be out soon after the official announcement and tickets can be booked as per the RCB match schedule. IPL match tickets are available with the official sellers and can be bought in online and offline mode. Below is the complete procedure of Book Royal Challengers Bangalore Tickets Online and offline along with match fixture.
Royal Challengers Bangalore IPL Tickets 2019 Online
IPL 12 expected to be one of the biggest hit due to the fresh auctions scheduled in January. IPL 12 tickets for RCB team is also expected to be sold in online and offline mode also like previous years. 2018 tickets were available through ticketgenie. in and liveinstyle. This year tickets are also expected with same ticketing partner.

Online tickets are best way to purchase the IPL tickets for Royal Challengers Bangalore matches. These tickets give the convenience of booking tickets from the comfort of home and office. Online IPL 12 tickets can be booked by visiting the official ticket websites and payment should be done in digital mode. Payment is required after selecting the tickets from the virtual stadium layout of the site. Payment can be done through net banking, debit card, credit card, UPI, wallets, etc. A small fee is levied on online transactions. If home delivery option is available, tickets will be delivered, else tickets might need to be collected from the box office.
This year RCB online tickets are available through liveinstyle.
RCB IPL Tickets Offline
Offline tickets were also available in 2018 IPL. This year IPL Bangalore tickets are also expected to sale in offline mode also. Some of the retail outlets of the city are authorized to sell IPL tickets through their retail store. Tickets are also sold through the M Chinnaswamy stadium ticket counters also. Full details of IPL RCB tickets will be published on this page after the official announcement. Half of the matches of the Bangalore IPL team will be played at Home ground (M Chinnaswamy Stadium) and the rest of the matches will be played at the opposing team cricket ground. Tickets of those matches will also be available at those stadium ticket counters.
Check the RCB Offline tickets counters list.
RCB IPL Tickets Price
Bengaluru IPL ticket prices are declared and tickets are little higher. Ticket prices of Bangalore stadium and other stadium are depends on the importance of match, location and timings. Most of RCB matches are high voltage matches and tickets are generally sold out very soon. IPL 12 RCB Ticket prices are shared below:
Minimum Tickets Price: 1750
Maximum Price: 35000
Royal Challengers Bangalore IPL Match Schedule
The RCB match schedule is shared below and updated list has been published after the official announcement of the fixture.
| Date | Teams | Time (IST) | Venue |
| --- | --- | --- | --- |
| Thursday, March 28, 2019 | RCB vs MI | 20:00 | Bengaluru |
| Friday, April 05, 2019 | RCB vs KKR | 20:00 | Bengaluru |
| Sunday, April 07, 2019 | RCB vs DC | 16:00 | Bengaluru |
| Sunday, April 21, 2019 | RCB vs CSK | 20:00 | Bengaluru |
| Wednesday, April 24, 2019 | RCB vs KXIP | 20:00 | Bengaluru |
| Tuesday, April 30, 2019 | RCB vs RR | 20:00 | Bengaluru |
| Saturday, May 04, 2019 | RCB vs SRH | 20:00 | Bengaluru |



Royal Challengers Bangalore matches are generally high scoring matches due to the strong batting line up and consistent performance. RCB tickets are always in demand because this IPL team is full of cricket stars. Spectators who are planning to buy live matches of Royal Challengers Bangalore should not wait and book RCB Bangalore tickets soon. Tickets are generally sold out very soon and quick action is required to book the tickets. I hope this guide is helpful in understanding the process of RCB 2019 Tickets.