Rajiv Gandhi International Cricket Stadium is a cricket ground in Hyderabad, India. It is the home cricket ground of Sunrisers Hyderabad IPL team. It is newly built cricket ground located in Uppal locality of Hyderabad. Is is also known Uppal Cricket Stadium. Rajiv Gandhi International Stadium was established in 2003. This stadium is equipped with flood lights for smooth hosting of day night matches. Opening match and final match of IPL 2017 season 10 was hosted in this stadium. Uppal Stadium is spread in a large area of 16 acre and seating capacity of the stadium is 60000.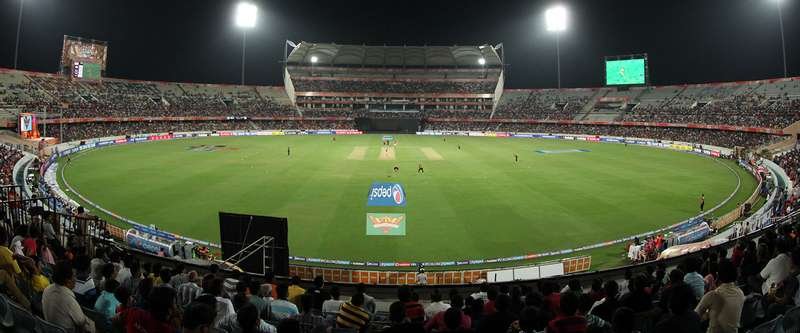 Rajiv Gandhi International Cricket Stadium is owned and managed by Hyderabad Cricket Association. Indian Cricket Team, Hyderabad cricket team, Sunrisers Hyderabad are the tenants of this stadium. Stadium pitch is known as batting friendly. Apart from the international fixtures, IPL tournament are most awaited cricket league among the residents of Hyderabad. Sunrisers Hyderabad IPL team is the most loved team among the Hyderabad fans.
Rajiv Gandhi International Cricket Stadium IPL Tickets – Uppal Stadium IPL Tickets
IPL tickets for SRH IPL team can be booked in online and offline mode. Both the mode can fulfill the booking of Rajiv Gandhi International Cricket stadium. Below I am elaborating Uppal IPL ticket booking procedure in both the modes.
Hyderabad Stadium IPL Online Tickets
Online tickets of Sunrisers Hyderabad are available online of few of the online ticket site. Site information will be announced the IPL officials few days before the commencement of IPL 2018. Tickets for IPL 11 might be available through Bookmyshow as per our guess. Tickets for SRH IPL 11 can be booked by selecting the seats from virtual layout of the map. In online mode, visitors can choose seats of their choice from the comfort of their home or office. Many stand seats are put on online sale during the online booking process.

Nowadays most of the stadium tickets are sold online to make ticket booking process transparent and stop black marketing of these match tickets. After selecting the tickets, spectators need to make the full payment of the tickets which includes all taxes and convenience fee. Digital mode of payment is accepted after selection the desired seats. Debit card, credit card, UPI, digital wallets and net banking payment modes are accepted. After the successful payment, an email and message confirmation would be sent to registered mail ID and mobile number.
Home delivery of tickets are also provided by the sites for some specific pin codes. If home delivery option is not available by the booking site, visitors need to exchange the online ticket print out from the original entry pass off the Uppal Stadium. Print outs are not valid for the entry. Rajiv Gandhi International Cricket Stadium box office details are shared by the ticket booking site at the time of booking or later via an email on registered mail ID. Box office address and contact number will be shared later.
Rajiv Gandhi Stadium IPL 11 Offline Tickets
Offline tickets are also available some times for the IPL 2018 matches, however, offline tickets are put less on sale as compared to online tickets. Offline tickets are generally available through Uppal stadium ticket counters, kiosks and other modes. Details of offline ticket through Rajiv Gandhi International stadium ticket counter and other outlets will be updated after the official announcement. Original entry tickets of the stadium are made available through the stadium counters and these ticket are need not be exchanged. Offline tickets are hard to book due to limited availability and they are time consuming because spectators need to leave their home or office too book these tickets for Indian Premier League season 11.

Uppal Stadium Seat Layout and Map
Rajiv Gandhi cricket stadium seat layout is displayed below, it is useful for those who wants to make their plan in advance and also helpful to locate the seats easily. This site map is showing all the block and stands of the stadium along with all the major parts of the Uppal stadium. Nearby roads, entry gates, pavilions, pitch, etc. are clearly depicted in the map along with IPL seating maps and arrangements.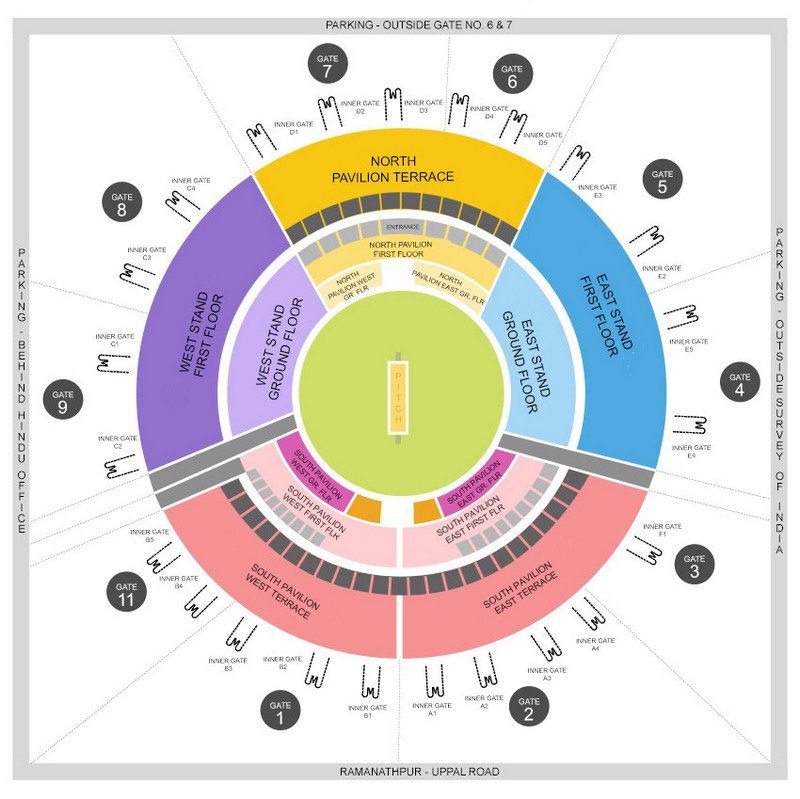 Rajiv Gandhi International Cricket Stadium IPL Schedule
IPL 2018 Schedule of Hyderabad cricket ground is shared here, it is the home ground of the Sunrisers Hyderabad IPL team. Full fixture of Rajiv Gandhi Hyderabad stadium for IPL 2018 is display below after the official announcement.
| Teams | Time | Day and Date |
| --- | --- | --- |
| Sunrisers Hyderabad SRH vs Rajasthan Royals RR | 20:00 IST (14:30 GMT) | Monday 9th April 2018 |
| Sunrisers Hyderabad SRH vs Mumbai Indians MI | 20:00 IST (14:30 GMT) | Thursday 12th April 2018 |
| Sunrisers Hyderabad SRH vs Chennai Super Kings CSK | 16:00 IST (10:30 GMT) | Sunday 22nd April 2018 |
| Sunrisers Hyderabad SRH vs Kings XI Punjab KXIP | 20:00 IST (14:30 GMT) | Thursday 26th April 2018 |
| Sunrisers Hyderabad SRH vs Delhi Daredevils DD | 20:00 IST (14:30 GMT) | Saturday 5th May 2018 |
| Sunrisers Hyderabad SRH vs Royal Challengers Bangalore RCB | 20:00 IST (14:30 GMT) | Monday 7th May 2018 |
| Sunrisers Hyderabad SRH vs Kolkata Knight Riders KKR | 20:00 IST (14:30 GMT) | Saturday 19th May 2018 |
General Guidelines
Some are the general guidelines which are almost same for all the cricket stadium of India, and these must be followed by every visitor for their own safety and players safety. Mobile phones and wallets are allowed inside the stadium and visitors are advised not to bring anything else in the stadium. Security officials will refrain the spectators who carry prohibited items in the stadium. Prohibited items list includes coins, mobile charger, data cables, cameras, binoculars, power banks, helmets, metal objects, sticks, helmets, match box, tobacco products, chewing gum, outside food items, earphones, headphones, etc. Baby food and diapers might be allowed after the proper checking. There are no counters for the safekeeping of prohibited items.
Tickets are valid for single entry and seat number, entry gate number, stand number, etc. are clearly specified on the ticket. Tickets are valid for the stand/pavilion written on the IPL entry tickets.
Facilities

All the cricket stadium provides basic and modern facilities to their visitors. Rajiv Gandhi International Cricket Stadium is a newly built stadium and can accommodate 60000 spectators to watch the live action of IPL matches. Multiple washroom, food stalls, etc are operational during the cricket matches. Drinking water is also available inside the stadium. Parking facility is also available, however, it got full very early during the live matches. Coming here via private vehicles are not recommended due to heavy traffic in the vicinity during the IPL matches. Public transport should be used to reach the Uppal stadium.