The Punjab Cricket Association Stadium is a cricket ground located in the Mohali city in Punjab State, therefore it is also known as Mohali Cricket stadium. The official name of this cricket ground is IS Bindra Stadium. Mohali cricket ground was established in 1993 with a cost of 25 crore Rs at that time. Mohali stadium IPL tickets are required to watch the game of IPL in this stadium.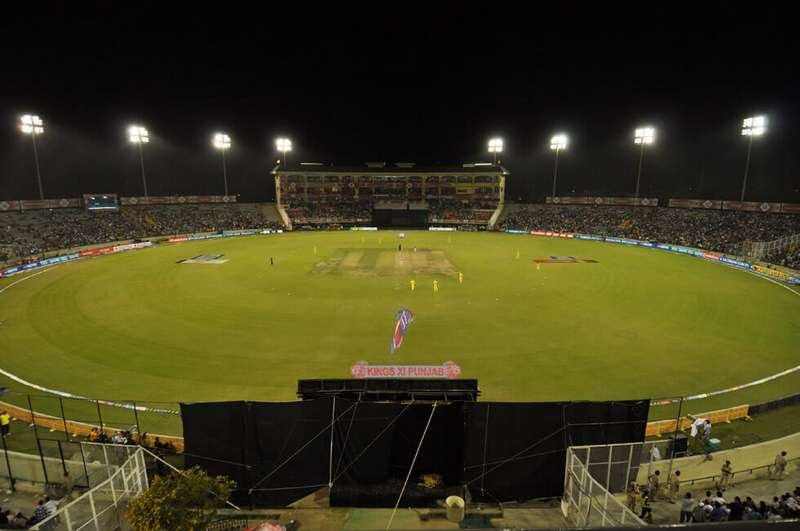 IS Bindra Stadium is the home ground of Punjab Kings of IPL league along with Holkar stadium, Indore. Punjab Kings is the IPL team of Mohali franchisee and it has very good support of whole Punjab cricket fans. This stadium is capable of holding day, night matches due to the availability of floodlights. This stadium has 16 floodlights of low height to avoid obstacles in aircraft landing on nearby airport. The seating capacity of the stadium is 26000.

This stadium is venue for all types of cricket matches like Test, ODI and T20 along with IPL league matches and domestic cricket matches. Thrilling Semi Final encounter of 2011 World Cup between India and Pakistan was played here. India won this semifinal. The first test was played in the Mohali cricket stadium in 1994 and first ODI was played here in 1993. IS Bindra Stadium is owned and operated by Punjab Cricket Association. Main tenants of this stadium are Indian cricket team, Punjab cricket team, Punjab Kings IPL team.
Mohali Stadium IPL Tickets
Mohali Stadium IPL Tickets 2022 for the Punjab Kings IPL team can be booked in online mode and offline mode. In this digital era, most of the people opt for IPL online tickets due to simplicity and comfort. Most of the tickets are generally available in the online mode and some of the tickets are available through stadium counters or kiosks and outlets throughout the city.
IS Bindra Stadium IPL Tickets Mohali Online
IPL 15 tickets for Punjab Kings are available through insider website. Ticket booking from online mode is very simple and user-friendly. The visitor needs to select the desired tickets and from the stadium layout. All the available tickets of stands along with ticket prices are listed on the website. After selecting the IPL tickets Mohali 2022, the user needs to pay the entire amount via online mode. Debit card, credit card, net banking, digital wallets, UIP, etc. are accepted for the payment. Sometimes a home delivery option is also available for the sale of the IPL 13 tickets. Home delivery option can be checked by entering the pin code of the area.

After successful payment, a confirmation email and message will be sent by the ticket booking site containing a transaction number along with all the information on booking ticket. Visitors need to be exchanged the printout of the e ticket with an original gate pass to watch the match inside the Mohali stadium. Printouts are not valid for entry inside the IS Bindra stadium for watching live matches of IPL 2022 matches. Box office details for changing tickets will be displayed on the site while booking the tickets or in the confirmation E mail. Original entry ticket contains all the information to match like seat number, stand, entry gate, etc.
IPL Mohali Tickets Price 2022

Mohali Stadium tickets price will be announced by the organizing committee. IPL Mohali Ticket cost might starts from 950 Rs and it is in the average price range. The maximum ticket price of the stadium might be 8500 like previous year. Mohali tickets are also available in multiple price ranges like 1300, 2000, 2500, 3000, 3500, 7500, etc. There is a very high demand for Indian Premier League tickets among Indian fans. IPL ticket price Mohali will be set by organizers in a couple of weeks.
Mohali Stadium Offline Tickets for IPL 15
Offline tickets are also available for the Mohali Stadium KXIP IPL Matches. Generally, some of the tickets are sold through offline channels like Mohali stadium ticket counters, kiosks, and ticket outlets in the city. Original entry tickets are provided by the ticket counters and they are valid for direct entry inside the stadium. List of Mohali IPL matches ticket counters and outlets will be published on the website after the official confirmation.
Mohali Stadium IPL 2022 Schedule

Punjab Kings will play many matches at this stadium. Mohali stadium full match fixture will be shared below of 2022 after it is shared by IPL committee.
Mohali Stadium Seating Map
Below image is showing the Mohali stadium layout along with the seating arrangement, entry gates, stands and pavilions. All the major information about the stadium clearly depicted on the stadium map. All the lounges, VIP blocks, pavilions, nearby roads, parking are clearly shown on the map.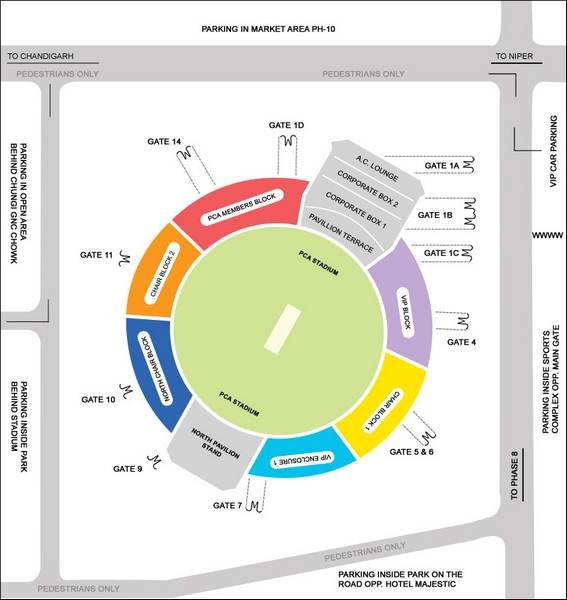 Restricted Items

Many of the items are on the prohibited list and visitors should not carry these items during the matches at Mohali international cricket stadium. Matchbox, cigarettes, tobacco products, lighters, helmets, coins, headphones, earphones, wires, water bottles, power banks, data cables, camera, binoculars, etc are banned inside the stadium. Visitors can only carry the wallet and mobile phones along with them. Baby food and items can be allowed inside the IS Bindra stadium after the proper checking. Visitors should not bring any unnecessary items along with them while going to Punjab Cricket Association Stadium Mohali.