The Feroz Shah Kotla stadium is the only cricket ground in Delhi, which is able to organize the international cricket matches. It is the only stadium of Delhi NCR which holds Test matches, ODI matches, T20 matches and IPL matches. Feroz Shah Kotla Cricket Stadium is the home ground of Delhi Daredevil IPL team. Home matches of DD held here in every season of IPL. IPL 11 matches of Delhi Daredevil are also scheduled to be held here. The stadium is located on Bahadur Shah Zafar Marg near to Delhi Gate metro station. Feroz Shah Kotla Stadium Tickets Prices are already declared before the beginning of this season.

Feroz Shah Kotla Ground is a very old cricket ground established in 1883. It is one of the oldest and popular grounds of India and it hosted many historical matches in the past. Many great memories for Indian Cricket team are attached to this ground. Anil Kumble took 10 wickets in an inning against Pakistan on this ground. Sunil Gavaskar also equals 29 centuries with Don Bradman. Sachin Tendulkar hit his 35th Test century here and crossed the highest century mark of Sunil Gavaskar.
Owner and operator of the Feroz Shah cricket stadium is a Delhi District Cricket Association. It can accommodate more than 40 thousand visitors during the cricket matches. Along with the hosting of multiple high voltage Test, One Day and T20 matches, it also hosts IPL matches. Main tenants of this stadium are Indian cricket team, Delhi cricket team and Delhi Daredevil IPL team.
Feroz Shah Kotla Stadium 2018 IPL T20 Match Tickets
Half of the matches of 2018 IPL Delhi Daredevil team will be played in Feroz Shah Kotla Stadium and who wants to witness the live matches needs to purchase the Feroz Shah Kotla Delhi Daredevil Team IPL tickets. Feroz Shah Kotla IPL 2018 ticket booking process is quite simple and tickets are available in online and offline modes like 2017 IPL matches. In this post, I will try to explain all the booking procedures of Feroz Shah Kotla Stadium tickets.
Feroz Shah Kotla Stadium Online Ticket Booking IPL 2018

IPL tickets for Feroz Shah Kotla cricket stadium can be purchased in online mode. Online ticket mode is most easiest, hassle-free and convenient mode to buy Feroz Shah Kotla stadium tickets. Online ticket provides the facility of booking IPL match tickets from the comfort of home or office. IPL tickets booking will be provided by insider.in and paytm website or app for Feroz Shah stadium.
In this mode, cricket fans can buy tickets by selecting desired seats in the appropriate stand. Seats can be picked by going through the virtual seat layout of Feroz Shah Kotla stadium. After picking the desired seat, payment must be done in digital mode within a time frame of 10 to 15 minutes. Net Banking, credit card, debit card, digital wallets are the preferred mode of online payment.
After the successful payment a transaction ID is generated and a mail and SMS sent to the registered mail and mobile number along with the E-ticket and other details. If home delivery of ticket is available, then tickets will be delivered to desired home or office address after paying a nominal courier charge. If IPL ticket delivery is not available, tickets need to be collected from selected kiosks of the online ticket booking site or stadium ticket counter. E ticket which was sent to the registered E mail must be exchanged with original ticket to get entry inside the Feroz Shah Kotla stadium to watch cricket match. Box office ticket pick up address is displayed on the website during the ticket booking process. Tickets booking has been started.
Ticket Pick Up Address
Online tickets need to be exchanged with physicaltickets to get entry inside the stadium to watch live matches of IPL. Below is the complete address along with Google map.
Raja Ram Mohan Roy Memorial Hall, Vishnu Digambar Marg (Opposite Hindi Bhawan), Bal Bhawan ITO, New Delhi – 110002.
ITO metro station of Delhi metro violet line is the nearest metro station to ticket box office location.
Feroz Shah Kotla Stadium Counter Tickets and Outlet Tickets
For IPL 2018 Feroz Shah Kotla Stadium tickets are also available on multiple outlets throughout the city at cafe coffee day, Twenty Four Seven and selected metro stations. The complete list of these outlets will be published after the official announcement. These outlets and counters will sell Feroz Shah Stadium IPL 2018 tickets. These outlets provide original entry tickets of the Feroz shah cricket ground and this is the main benefit of buying tickets from these outlets.
IPL Offline Tickets from Delhi Metro Stations
Pragati Maidan Metro Station Gate No. 2
Kirti Nagar Metro Station Gate No. 2
Kashmiri Gate Metro Station Gate No. 5/6
Okhla Metro Station Gate no. 3
Saket Metro Station Gate No. 3
Jasola Metro Station Gate No. 1/2
Daikin Shop
Shop No. 77-78, G296 Jail Road Hari Nagar
171 A, LIG Flat, Rajouri Garden
24 Seven Stores
In Dwarka: SN G 26-27, Vardama Jaypee, Plaza Commer Center, Sec 4, Dwarka, Near Aashirwad Chowk
In Model Town: F14/13, Model Town 2
In Kamla Nagar, 23, UGF, Jawahar Nagar
In Shalimar Bagh, SN AB 13, Gr Floor Azadpur Metro Station, Shalimar Bagh Opp. AD Market
In Connaught Place, Shop No. 15, Ground Floor, Regal Building, CP
In Karol Bagh Metro Station Gate No. 5, Pillar No. 101
In Nirman Vihar, E 371, Ground Floor, Near Nirman Vihar Metro Station
In East of Kailash, F5, Ground Floor Main Market
In Greater Kailash – II, Shop M63, Main Market, Greater Kailash Phase 2
Feroz Shah Kotla Stadium IPL Ticket Price
Feroz Shah Kotla Stadium tickets sale started through paytm and insider website and app. Delhi Feroz Shah Kotla IPL ticket price is kept low so that maximum cricket fans can watch the live matches in the stadium. Starting ticket price is just 750 and detailed ticket rates are displayed below:
East Stand – Second Floor – 750 Rs
North West Stand Ground Floor Regular – 1400
South Side OCH – 5500
Platinum Gallery – 12500
West Stand Third Floor – 850
North East Stand Ground Floor Premium – 3500
West Stand Ground Floor – 1900 and 2500
Hill B south west – 3000
*Ticket rates depend on match to match and tickets are offered by insider.
Delhi Feroz Shah Kotla IPL 11 Match Schedule
Match schedule of Ferozshah stadium is announced by IPL official committee. First match of IPL 2018 will be played at 8 April 2018 and last match be played at 20 May 2018. IPL 2018 fixture for Delhi stadium is shared below.
| Teams | Time | Day and Date |
| --- | --- | --- |
| Delhi Daredevils DD vs Kings XI Punjab KXIP | 16:00 IST (10:30 GMT) | Sunday 8th April 2018 |
| Delhi Daredevils DD vs Royal Challengers Bangalore RCB | 20:00 IST (14:30 GMT) | Saturday 21st April 2018 |
| Delhi Daredevils DD vs Kolkata Knight Riders KKR | 20:00 IST (14:30 GMT) | Friday 27th April 2018 |
| Delhi Daredevils DD vs Rajasthan Royals RR | 20:00 IST (14:30 GMT) | Wednesday 2nd May 2018 |
| Delhi Daredevils DD vs Sunrisers Hyderabad SRH | 20:00 IST (14:30 GMT) | Thursday 10th May 2018 |
| Delhi Daredevils DD vs Chennai Super Kings CSK | 20:00 IST (14:30 GMT) | Friday 18th May 2018 |
| Delhi Daredevils DD vs Mumbai Indians MI | 16:00 IST (10:30 GMT) | Sunday 20th May 2018 |
Feroz Shah Kotla Stadium Layout and Seat Map

Feroz Shah Kotla Stadium map is showing all the important details of the stadium which are helpful to those who are planning to watch a live match in the Kotla stadium. All the entry gates of the Kotla stadium along with the nearby roads. All the pavilions, stands, pitch, nearby landmarks are also displayed in the stadium layout. Feroz Shah Kotla Stadium seating arrangement clearly depicting in the image and it will be very helpful to find the seats easily.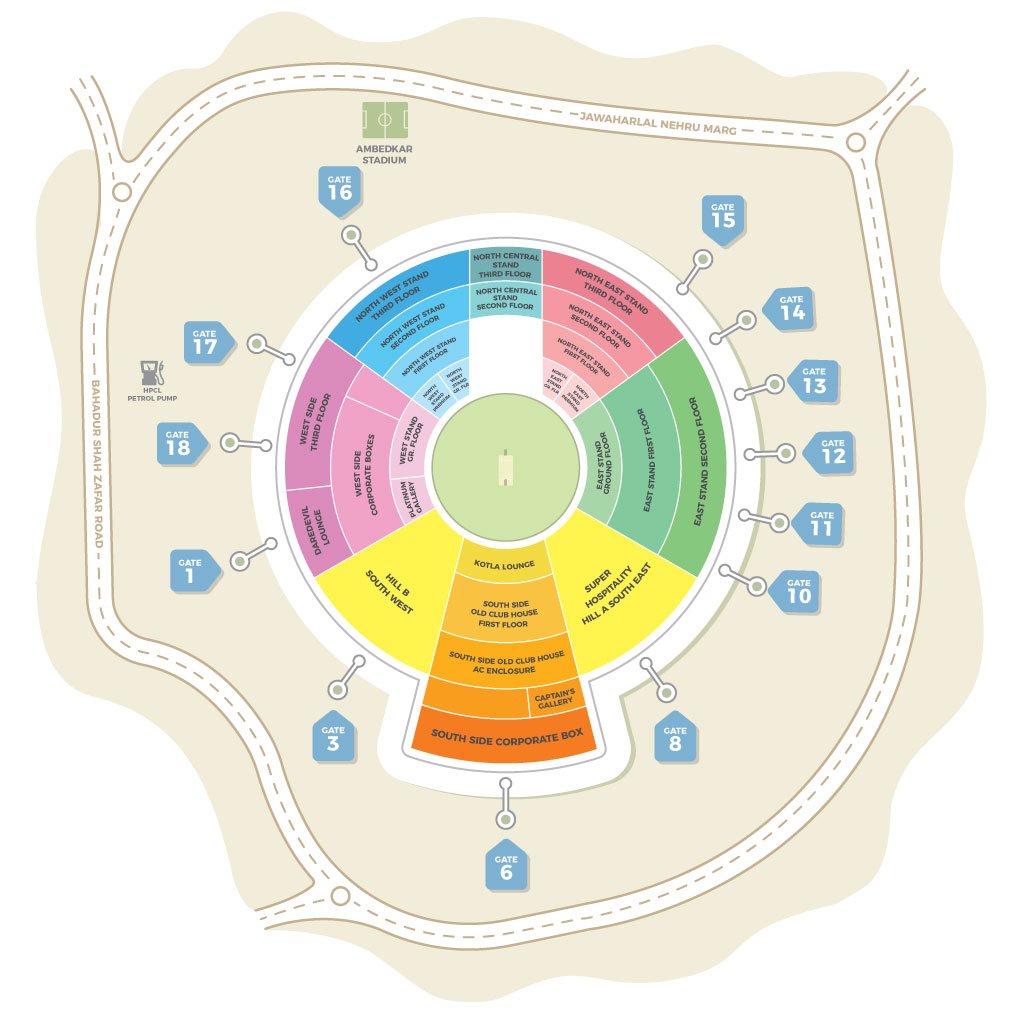 Prohibited Items in Feroz Shah Kotla Stadium
Some of the items are strictly prohibited inside the Kotla stadium and entry is allowed after a tight security check. Most of the items which are throwable are banned inside the stadium like coins, bottles, etc. Visitors should not bring some restricted items inside the stadium such as helmets, lighters, match box, cigarettes, tobacco items, power banks, earphones, camera, DSLR, binoculars, water bottle, ear phone, data cables, head phones, etc. Baby food might be allowed inside the stadium after the security check.
Feroz Shah Kotla Stadium Facilities
Proper arrangements are available in Feroz Shah Kotla Stadium during the cricket matches. Many food stalls are set up in the stadium, which serves hot and delicious food. Some of the food outlets are branded and some are non branded. Water bottles are banned inside the stadium, therefore, water is available inside the stadium in disposable glasses. Washroom are also available inside the stadium premises, some portable and mobile washroom is also set up during the matches. Parking facility is available, however, it is very limited and it goes full very fast.

The stadium is located in very congested area, therefore, reaching here via private vehicle is not a good idea. Delhi metro is the best way to reach here, Feroz Shah Kotla nearest metro station is the Delhi Gate of violet line. The Metro station is just opposite to the stadium and it is very near. During the late night matches booking an app based cab is a good option if you do not want to drive yourself in heavy traffic after the post-match.
More information regarding the Feroz Shah Kotla Stadium IPL 11 tickets will be updated time to time after the official announcement regarding 2018 IPL match tickets.